A Contractor, Home Builder & Designers Guide
Whether your home building website is brand new, you've had it for years, or you're still in the process of planning your design, you've probably heard the term "SEO" thrown around.
If you have any confusion about what SEO is, or you don't fully understand its importance, it's unlikely that you will take the time to implement it. 
And that would be a huge mistake! 
In order to increase traffic, create brand favorability for your interior design or contracting business, and ultimately gain more ideal clients, you need an SEO plan. 
Today we are going to simplify the term SEO, explain its purpose, update you on current best practices, and show you how you can start an effective SEO plan with ease.
According to Yoast CEO Marieke van de Rakt,"SEO stands for 'Search Engine Optimization'. 
It's the practice of optimizing your web pages to make them reach a high position in the search results of Google or other search engines. 
SEO focuses on improving the rankings in the organic – aka non paid –search results. 
If you have a website and you want to get more traffic, it should be part of your marketing efforts."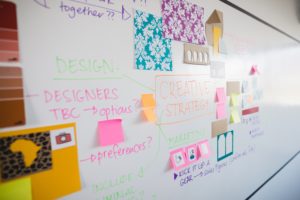 Simply put, SEO involves designing your website and its content in a way that makes your site more attractive to a search engine. 
You do this in hopes that the search engine will display your website as a top result on the search engine results page.
Now, the interesting thing is that the way you rank high on Search Engine Results Pages (SERPS) is by making your website and its content attractive and easy to use for your visitors. 
A search engine's goal is to provide fantastic service to their users. You can't rank high on Google unless you are taking your user experience seriously!
Search engines are continually scanning (or "crawling") websites to get a clearer understanding on who the site is for, what it's about, and how easy it is to understand. 
By doing so, the search engines are able to deliver the most relevant results to users who are searching for a particular topic or phrase. 
Your goal should always be to design a web page that is good quality, but also relevant to what your audience is searching…and good SEO practices help you do that.
Organic Search Is Still A High Source Of Web Traffic
Even in the world of paid ads, organic search remains a large part of most business's website traffic. 
Organic traffic also usually results in better engagement, meaning the people who stumble across your website from an organic search result (rather than an ad or social media page) are the most likely to fill out your contact form, book a phone call, or schedule an estimate.
Good SEO Results In a Better Experience For Your Prospects
Every website owner wants to be highly visible to search engines, but few still realize that creating a better experience for their visitors is the best way to get there. 
Google is incredibly smart these days and has learned how to determine a good or bad user experience, and a positive user experience has become key to a website's overall success.
SEO Converts Prospects into Clients
Customers today do a great deal of research before paying for products or services. 
Good SEO can help you relay what makes your business favorable, what kind of great services and offers you provide, and how trustworthy and reliable you are. It's not hard to see why communicating these things effectively to your prospects impacts the buying cycle! 
Keeping your brand visible in the right places is the best way to make valuable connections with your prospects, and SEO allows you to do this.
While social media and paid ads might result in a good amount of people visiting your site, that traffic does not necessarily turn into customers.  
Often the visitors generated in this way are quick to exit the site without taking any kind of action.
Your goal with a website is to create awareness of your brand, book new clients, and nurture customer loyalty. The amount of web visitors matters little to you as a business owner, if none of those people reach out and hire you!
And that's the purpose of organic SEO. It focuses on matching keywords to the intent of searchers. 
Imagine you are a new homeowner curious about interior design tips. 
You have even played with the idea of hiring an interior designer, but you are unsure where to begin. 
You spend your time asking Google to show you things like: 
The ultimate interior design checklist

Best interior designers in my area

Home design tips for small spaces

Design mistakes people make in 2019

How to find a good interior designer
While the search results have been plentiful, one specific brand pops up again and again. 
Their website has helpful content which makes you feel they are trustworthy, and their site is easy to navigate. By the end of the week you decide to reach out and book a free consultation. 
Organic SEO is critical if you want in market prospects to find you, remember you, and book you. Never rely on paid ads or social media platforms alone!
Now that we understand the role good SEO plays for a business, how do we begin using it?
Define your target audience
What kind of clients do you currently help? Are you happy with this kind of clientele? 
Do an evaluation of your services, and then consider your audience (or "ideal" audience) demographic. 
How old are they? 

Are they mostly men or women? 

Are they middle class? Upper class? 

Are they educated or do they work in specific industries? 

What about their attitudes, lifestyles, and behaviors? 
Take the time to get really specific about who you are speaking to so you can shape your content appropriately and get your audience to respond.
Evaluate your competitors
Whether you're a home builder doing your first web design, or you're revamping an old site to make it SEO friendly, it's always wise to evaluate other contractors and designers in your industry. 
Note what you like and would guess is working well on their websites. 
Also, ask yourself what mistakes they are making from a user's perspective that you should try and avoid.
Think about your business and make a list of important topics that relate to who you are and what you do.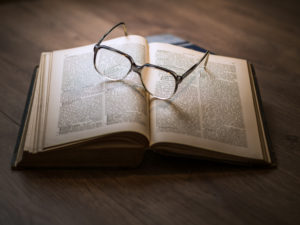 Now take your list over to a keyword research tool like KWFinder and you'll be able to discover which relevant phrases you should be revolving your content around. 
Keyword research and implementation ensures that you are talking about the exact things that your audience is searching for.
Format Your Content for Easy Scanning 
It's sad, but true…the majority of online users aren't reading all of your content. 
They're scanning it.
In order to rank high with those SERPS and keep people on your page for longer, your content needs to be formatted with this in mind. 
Use headers, bullet points, images, bold and italicized print, and PLENTY OF WHITE SPACE. 
If you can skim through a web page and grasp what the content is about just by reading headers, bold print, and bullets, you're off to a good start.
Use those keyword phrases and don't just stuff them in your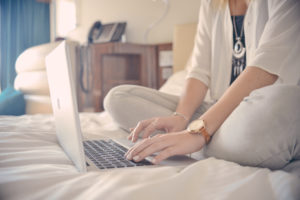 posts and landing pages – revolve your content around them! 
These are the things your audience is searching for, meaning this is what they want to hear about! 
Put your assumptions aside, and make sure your goal is to add value to your audience with your content.
Once you've implemented these SEO practices, it may take 4-6 months for you to see a tangible difference in your ranking. But don't get discouraged! 
Check in every few months, and in time you will see results that will be game changing for your business. 
When you're happy with your ranking, it's critical to use your analytics to keep an eye on web traffic, actions taken on your site, and how long visitors spend sifting through your pages. By watching your analytics, you'll be able to make adjustments easily.
Check frequently to see if you show up on the first page of relevant search results, and check your Google ranking here. 
There are plenty of other factors that can improve your SEO – things like link building, mobile optimization, and site speed can all further improve your results. 
But remember, if SEO still seems like a lot to get your head around, start by just changing an element or two, reviewing your results, and then implementing a few more!
If you'd like professional help implementing SEO, designing your web page, or creating a killer content plan, I would love to help! Contact us here!
If you found this article helpful, don't forget to subscribe to our blog below for more valuable content like this.