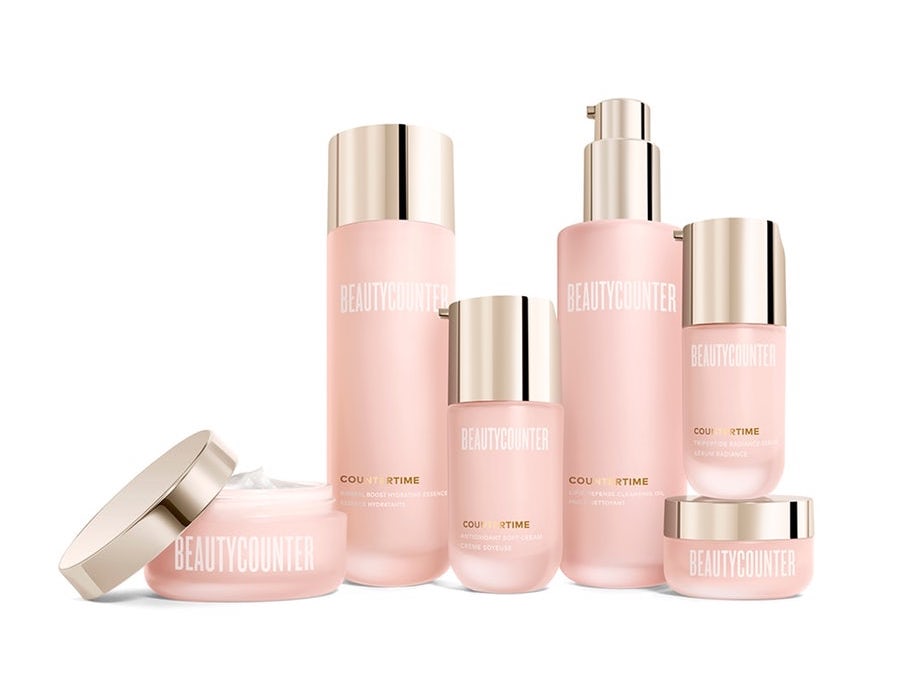 First, you know that feel you get after you go to a spa? That's the feeling I get every day and night when I use this set. Every time I use it, I swear my skin is glowing!
Second, I have always felt like skincare & beauty are confusing. So many bottles, for so many different things. What do you use first? What works with my skin type, etc. Beauty Counter takes the guessing out of everything and makes it SUPER easy. 
Lastly, Beauty Counter just goes above and beyond as a business. We love the mission of their company, the quality of their products AND they provide quality products for the entire family! 
First, I love that they have included the primer and mascara all in one product. It keeps things simple and always have them together instead of having to keep track of two seperate things.
Second, I love the simplicity and quality of their product. Primer on one end and Mascara on the other to really give your lashes the extra volume you are looking for with clean safe ingredients! 
Third, I love that they have made this product readily available to all consumers. It is really easy to find either on Amazon, Target or their website at a great affordable price! Click the link below to try it for yourself and have it delivered right to your door!
First, as parents, we always want whats best for our kids. "Beauty Counter believes children deserve to be protected, which is why they have taken special care to create a bath collection that is gentle, effective, and kid-friendly." And we couldn't agree more!
Second, this bath collection not only smells AMAZING, it foams well and will last. A little goes a long way! Plus they have divided shampoo, conditioner and body wash into separate bottles instead of making things 'all-in-one' which I have found helps make things last longer.
Third, my daughter loves the bold colors of the bottles! Anything helps to practice colors right?
What kid (or adult) doesn't love a a bubble bath? Honest has created this awesome bubble bath to make bath time even more fun for the kiddos. I literally have both of my kids running to the bathtub when I mention bubbles in their bath. 
And of course, honest has created a product that has clean and safe ingredients! Win Win!
Lastly, the scents are wonderful! I am a person who is really sensitive to scents and perfumes and this bubble bath gives just the right amount of scent without it being too much. The Vanilla Orange scent is our favorite! 
I have always struggles to find a bar soap that I really love. Either I couldn't stand the scent or the bar would dry out my skin and leave it feeling really dry. This bar has a light scent, foams great and leaves my skin feeling clean but not dry! This also lasts longer than I expected it would! Not a fan of bar soaps? Check out the Citrus Mimosa Body Wash by Beauty Counter– another favorite of ours!
Before I started I started educating myself about the ingredients in the products I use I would just get the typical Dove, Herbal Essense or whatever shampoo my hairstylist recommended. Most of the products I tried would have a very strong scent and dry out my scalp. And I also found that natural products would not foam well. 
This shampoo has a light but refreshing scent and is safe to use daily! My hair is super shiny & soft after each wash. plus it lathers and soaps really well making you feel like you are using a salon shampoo.  
Body Wash in Citrus Mimosa
First off, I love this body wash because the scent is perfect! I am sensitive to strong perfume scents and this body wash has the perfect amount!
Second, I often found Bar soaps to dry out my skin so I preferred using body washes. (Until I found Beauty Counters Bar Soap– which we also love!) But if your a body wash type person this one is perfect! It lathers well and will leave your skin feeling clean and soft!
Lastly, this body wash would not dry out my skin like most other body washes! If your looking to make the switch to cleaner skincare products this one should be on your list to try! 
Some of the links on this page may be affiliate links. Jennifer Elias's,  JLE Creations, LLC is a participant in the Amazon Associates Program, an affiliate advertising program designed to provide a means for sites to earn advertising fees by linking to products Jennifer organically uses and trusts. If you purchase a product through an affiliate link, your cost will be the same, but Jennifer Elias's,  JLE Creations, LLC will automatically receive a small commission. Your support is greatly appreciated!